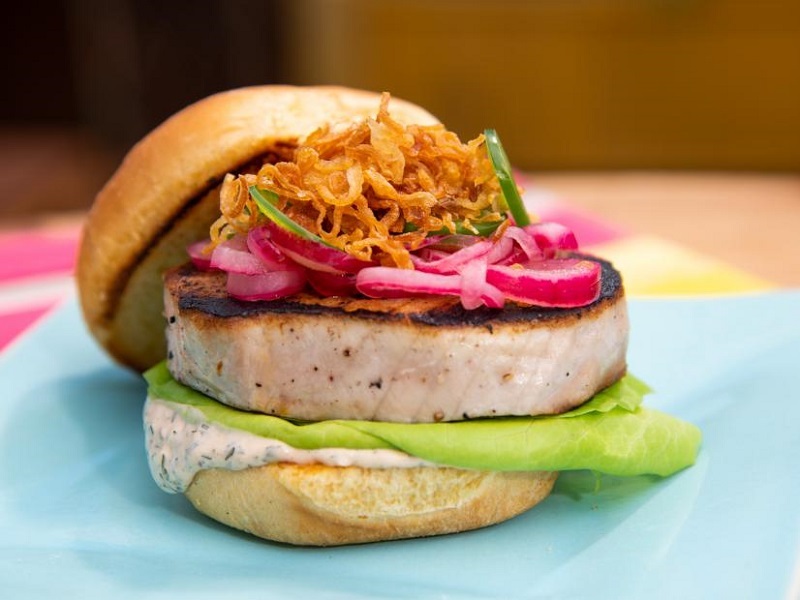 Tuna burger, the natural recipe with olives, capers, and fennel seeds. Tuna is a food very rich in mineral salts (selenium, phosphorus, and magnesium). And of omega 3. This strengthens bones and muscles, and even improves mood.
TUNA BURGER RECIPE
It can even improve mood. But first and foremost, tuna strengthens the muscles and bones and, thanks to the Omega 3 that it has, is a true elixir for the heart, circulation and also against the aging of tissues.
BENEFITS OF TUNA
Tuna, among other things, with its vitamins (B12, D, and E), has a very flexible use in the kitchen and can be brought to the table really in so many dishes, first and second. But you can use it, and this is also good for the little ones, for a fantastic hamburger. To prepare with tuna burger recipe we took from the book Ham Burger for everyone by Rachael Ray (
INGREDIENTS
-700 grams of tuna steak without skin cleaned of dark meat and cut into large pieces
-¼ cup of finely chopped flat-leaf parsley
-2 tablespoons of fresh rosemary
-2 tablespoons of finely chopped fresh thyme
-1 tablespoon of grated lemon rind
-1 tablespoon of fennel seeds
-Salt and a pepper-1 teaspoon of crushed red chili flakes
-½ cup of pitted Nizzard olives
-3 tablespoons of capers
-1 tablespoon of white wine vinegar
-4 anchovy fillets
-5 tablespoons extra virgin olive oil (extra virgin olive oil), plus another to sprinkle
8 green leaf lettuce leaves
-Sliced tomato
-Red onion cut into thin slices
PREPARATION
– Store the tuna in a food processor and operate at short intervals until it is finely chopped.
– Transfer the tuna into a bowl and add the parsley, rosemary, thyme, lemon zest, fennel seeds, and red chili flakes; season with salt and pepper and mix thoroughly.
– Cut the dough into a surface, dividing it into 4 equal portions, and shape them to form pressed meatballs of equal thickness.
– In a food processor, reduce the olives, capers, vinegar, anchovies and 4 tablespoons of EVO oil to puree, operating to obtain a tapenade.
– In a large non-stick pan, heat the remaining tablespoon of EVO oil (a round of pan) over medium-high heat.
– Cook the burgers, turning them once, for 6 minutes for medium-rare cooking and up to 10 minutes for well-cooked burgers.
– Arrange the burgers on the sandwich bases; garnish by overlaying the lettuce, tomato, and onion.
– Spread the upper parts of the sandwiches with plenty of olive-based tapenades and use them to cover the burgers.