Cosmos with its incredible beauty and mysterious depths has always attracted a man. Since Yuri Gagarin made his first flight, dreams of stars and other worlds have ceased to seem impossible. And yet, hardly anyone of us can see the Earth from space or fly to another planet, so you have to be content with little: read science and science fiction, watch movies and often go to the planetarium. And you can also make a space design of an apartment by turning your home into a cabin or a captain's cabin of a starship, as in the photo below. The motives of space are perfectly combined with the ideas of hi-tech, futurism and minimalism so that if you have imagination and taste, you will have an original, comfortable and spectacular interior.
Space colors and materials
Cosmos only at first glance appears black, in fact, it shines with colored lights. Stars, planets, comets, clusters and nebulae, other galaxies, flashes of supernovae and black holes — the sight of the vast expanses opening beyond the limits of the earth's atmosphere shook the imagination. What colors can be used to create a space design apartment? Choose an option to your liking:
Gray-steel scale interspersed with white, black, gold, imitating the skin of a starship;
Blue, black, violet tones with red, snow-white, orange, golden notes as a cosmic landscape;
Snow-white background with chrome elements, metallic colors, black, gold, fiery red details like the interior of a spaceship in a futuristic style.
The materials used in the interior space bedroom, living room or kitchen, must imitate artificial, industrial substances or be such. Plastic, metal, glass, smooth, transparent, glossy surfaces are excellent for implementing any ideas about the space and the housing of the future. The tree can be present only in a neutral version, not out of the general picture, brick and natural stone are completely excluded. Laminate, plaster, paint, the wallpaper will be an excellent background for furniture in modern style with simple geometric shapes or, on the contrary, unusual, streamlined rounded models in the form of ellipses, ovals, drops.
Remember that the interior design in the space style should be concise and functional, all things are removed in the storage system, invisible from the outside, but roomy, the decor is reduced to a minimum. When it comes to interplanetary flights, everything in the ship should be in place, but always at hand, from the coffee maker to the spacesuit.
Space design of an apartment: ideas and ways to implement them
How to turn an ordinary apartment into a spaceship plying the universe? There are many ways, and many of them are quite affordable in terms of time and money. You do not have to be a professional designer to bring a piece of endless space into the house. Often, one bright poster, photo wallpaper on the walls, lighting and a suitable color scheme that combines individual objects and rooms is enough. It's worth starting, no matter how trite it may seem, with watching fantastic movies based on the works of Bradbury, Wells, Strugatsky, Lem and other famous science fiction writers. Choose what you like best, Martian Chronicles, War of the Worlds, Star Wars or Interstellar, get inspired and use win-win ideas from classics, directors, artists to design your own apartment, as in the photo example.
Large surfaces: walls, floor, ceiling
The floor in an apartment with a space design can be tiled or parquet, covered with laminate, linoleum, and floorboard – the main thing is that the surface looks homogeneous and not conspicuous. Gray, black, silver, sand, milky and white shades of flooring are good for our purposes. If the floor is glossy and shiny, you can soften the glow with a neutral carpet or a carpet with a short nap of a suitable shape. The bulk floor is ideal, but a rather expensive option. If all of you decided on it, give preference to dark, violet-black tones with splashes of silvery sparks imitating a starry sky.
Space landscape on the ceiling or walls can be created using 3D-effect wallpaper, photo wallpaper, glowing stickers or painting with luminous paints, simple decorative stickers. An alternative option is a white ceiling and a projector with a starry sky effect. With the help of this device, you can turn a room into a cabin of a spaceship with panoramic windows of your choice.
The walls in the apartment with the space design can be painted in violet and blue colors, made snow-white, steel-gray, pale blue, mauve, orange, the main thing is that you feel comfortable in such a room. As a rule, the human psyche does not withstand constant visual contact with overly bright, dark colors. In other words, surrounded by planets, comets, space, penetrated by the light of stars of incredible depth and blackness, you will soon become uncomfortable.
Space landscapes, no matter how beautiful they are, are not the best option for the total decoration of living rooms, they look too impressive, intrusive and surreal. Experts recommend using pictures of open space for the design of one or two or part of the walls. The rest of the surface in the room is better to leave white, blue, use neutral gray, sand, cream tones, balancing the riot of colors of the universe. So you will not feel like a lone passenger of a spacecraft wrecked in the vast expanses of a foreign galaxy, but as an inhabitant or employee of a comfortable interstellar station, looking out the porthole.
Furniture and fixtures
Space design apartment involves the purchase of modern, stylish, beautiful and possibly unusual furniture in a futuristic or industrial style, in the spirit of high-tech. Laconic rectangular or sleek sofas, rounded armchairs, puffs, beds with LED illumination, as if floating in the air, products of modern designers, transparent acrylic chairs, tables, coffee tables – all this will find its place in the outer space. Approach to the theme of space in the design of the apartment is rounded bar stools of bright colors, an egg chair suspended from the ceiling, various transformers (lifting and sliding beds, folding tables). Classic furniture can be turned into "space" by putting suitable covers on sofas and armchairs, changing the color of the facades, adding gloss, gloss, white or steel color with paint or special film.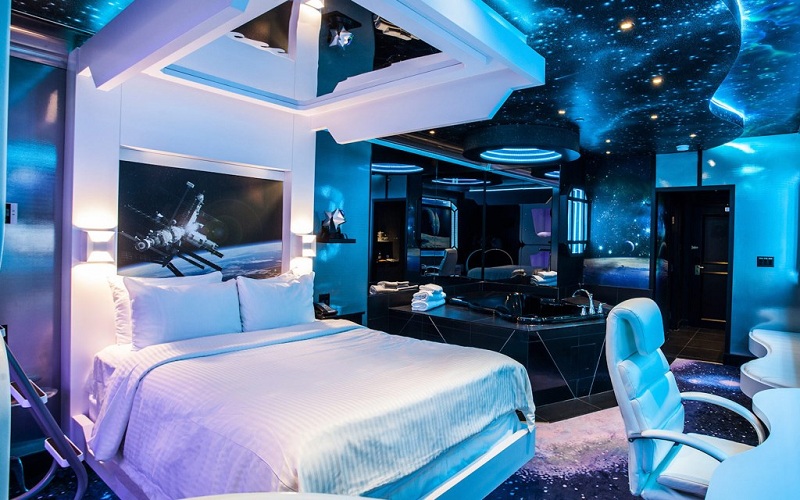 In an apartment of cosmic style, not only futuristic furnishing looks good, but also a high-tech, minimalist atmosphere. Large furniture (cabinets, kitchen sets) should be merged with the walls, furnishings. Choose kitchens without external accessories, with flat glossy facades, lockers, and drawers that open by pressing. All dishes, household appliances are hidden in spacious closets, like other things, wardrobe items, books, magazines. Metal, chrome-plated, glass elements are used as decoration, framing (kitchen faucet, kettle, coffee machine, and finish built-in wardrobe).
Lighting is an important element of any interior, including space. In the kitchen, in the living room, it is worthwhile to place unusual suspensions, high-tech floor lamps with glass or chrome-plated metal lampshades. Supplement the central and decorative lamps with illumination (spots hidden in the plasterboard construction around the ceiling perimeter with LED strips emphasizing the furniture lines (along the bottom of the kitchen set, along with the cabinets, beds) creating the effect of weightlessness. Chandeliers, wall lamps, and table lamps, resembling rocket nozzles, spotlights, models of the solar system.
Textiles and decor
Since the space design of the apartment implies the presence of bright paintings, paints, landscapes on large surfaces (walls, ceiling), the decor in such an interior should be minimal and concise. Plain curtains on the windows, sofa cushions (in the form of a circle, drops, stars), unusual vessels made of glass, ceramics, metal, short pile carpet on the floor are the main elements of the design of the room in the space style. One or two eye-catching accessories are allowed, for example, a telescope on a tripod near a window, mirrors, photographs, and paintings, posters on a space theme, unusual wall clocks, a starry globe, or other original details.
At the same time, try not to overdo it with minimalism; the astronauts are also people, and in their cabins, they are trying to create maximum comfort and a cozy atmosphere that reminds them of the Earth and the house. More boldly add accents and details to your space apartment, drawing ideas from films, books, and your own imagination, combine, mix and experiment, anything is possible in this universe!